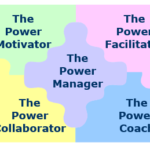 "The Power Leader" Series is a definitive and comprehensive learning solution that incorporates the five key capabilities of a contemporary leader. No more prescriptive leadership styles – managers get the opportunity to combine their own blend of knowledge, skills and talents to build their unique strength-based leadership capabilities and flair.
Step Up to Lead
Things seem to be moving fast. Expectations are high, work is complex. Getting the best performance out of yourself and others is an ongoing challenge.
First-level managers and supervisors are working through key leadership challenges, in their day-to-day work. They have to deal with interpersonal issues and achieve results through working with people.
They seek better ways to lead a team and get the work done.